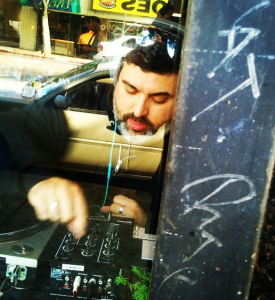 NO REISSUES.
NO ORDER.
NOT FOR USE BY LAZY CHEAP DOWNLOADERS THAT CAN'T THINK FOR THEMSELVES.
EPs
Golden Teacher "Do Not Go Gentle Into That Good Night" EP Optimo Music
Rolling thunder of the highest order that makes all other danse music seem as pale as Rolling Rock.
Stefan Jaworzyn "EP2" Shock
The past master reclaims the throne usurped by poseur noise children.
Funerary Box "Hell-Hammered Horror" Rescued From Life Records
American metal masterpiece from the heart of the darkened middle of the country.
Wareika Hill Sounds "No More War EP" Honest Jon's Records
Ever chew beef jerky underwater? Me either and this 10″ is beautiful.
Ivvvo "Light Moving" Fourth Wave
A remixed dream that Carl Craig had about an Acid House party at a Hotel Ibis in 1993.
Yves De Mey "Metrics" Opal Tapes
Unwrapping a Clark bar in the dark for 22 minutes and finally getting to eat it when the lights go on.
Madteo "Strumpetocracy" EP Nuearth Kitchen
A broken people mover that has a mind of it's own but never trips you up and gets you exactly to where it wants you to be.
Kanding Ray "Tempered Inmid" EP Stroboscopic Artefacts
Clean cut killer makes dapper corpses.
Anika EP Stones Throw
Ice cold sex with the most popular girl at the military academy.
Powell "Untitled" The Death Of Rave
Know wave masterpiece from a mind more thoroughly brilliant than yours.
FULL LENGTHS
Special Request "Soul Music" Houndstooth
Massive rewind since it's release. Ride VIP alone would make this my AOY but the 11 other tracks are just as mind blowing/body moving.
Call Back The Giants "The Marianne" Kye
Thee most comforting strangeness i have ever not understood. In a world where other worldliness is rare this is a breath of fresh air
Raspberry Bulbs "Deformed Worship" Blackest Ever Black
Lean and thick like a politically incorrect New York strip steak. Knife and fork blackened punk for those that use deodorant.
VoiVod "Target Earth" Century Media
Never ever thought i would like another VoiVod album since Outer Limits let alone one without the late great Piggy but this is a monster.
Sven Weisemann "Inner Motions" Mojuba
Billowy house the way it's supposed to be.  If I could transform this record into a pillow i would sleep for years at a time.
Basic House "Oats" Alter
Alien compositions translated from ancient scrolls and etched onto wax.
A stunning work of both vision and intrigue.
Messages "Mirage" Root Strata
Impossibly transgressive trance that in any other hands would come across as upper middle class WOMADian drivel.
Endless Boogie "Long Island" No Quarter
Proof, yet again, that real Rock is best made by derelict old folks. Forget the past, live for today.
KMFH "Boat Party" Wild Oats
Varied and thoroughly consistent, this record moves every part of your anatomy and a few vital organs.
Hoax "Hoax" Hoax Records
1st and maybe only full length from the best hardcore band in the US of A.
Please have something handy to rip to shreds when spinning this fucker.