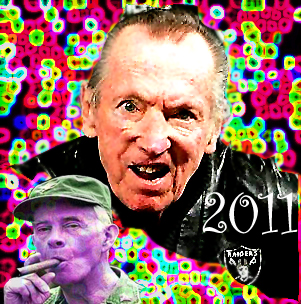 Nothing about 2011 particularly separates it from 2010 except it's one higher. Found myself picking more rock records than in the previous years which sort of surprised me and bored whomever i told.
1. Echologist "Subterranean" Steadfast
2. Mark E "Stone Breaker" Spectral
3. The Psychic Paramount "II" No Quarter
4. High Wolf "Atlas Nation" Holy Mountain
5. Balaclavas "Snake People" Dull Knife
6. Tiger & Woods "Through The Green" Running Back
7. Cut Hands "Afro Noise Vol.1" Very Friendly
8. Robedoor "Too Down To Die" Not Not Fun
9. Sven Schienhammer "Altostratutus Translucidus" Bine
10. Crooked Necks "Alright is Exactly What It Isn't" Handmade Birds
There were so many incredible reissues this year that i felt compelled to make a list dedicated to these new olde favorites. Not taking away from the stellar reissues by TG, Talk Talk, Skullflower and Void i wanted to try to stick to groups i never heard before and felt as new and exciting as anything that came out this year.
1.Fungus Brains "Ron Pistos Real World" Load Records
2. Prisoners Go Go Band "Live! At the Butchery with Special Guests on Fire " S-S Records
3. Rob "Funky Rob Way" Analog Africa
4. Black Humor "Love God – Love One Another" Superior Viaduct
5. Pump "The Decoration Of The Duma Continues" Forced Nostalgia
6. Free Agents "£3.33" Groovy Records/Drag City
7. Lord Foul "Killing Raping Burning / The Devil's Advocate" Dias
8. El Rego "El Rego Et Ses Commandos" Daptone
9. John Bender "Plaster Falling" Record Sluts
10. Starfuckers "Metallic Diseases" Holy Mountain