New PROSTITUTES jam decoded live to 4 track.
A version of which will be part of the live in store appearance @ Bent Crayon.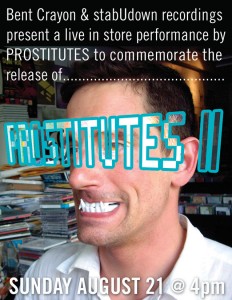 PROSTITUTES II will be officially released on Sunday August 21st 2011.
This In Store at Bent Crayon is the debut live performance by PROSTITUTES and the new album and other stabUdown releases will be available for a paltry $5.
The whole thing kicks off at 4:00pm.
While you're there buy some of the excellent, quality records that this mecca of excellent, quality records has to offer.